When delivering dryland farming system innovations, ICARDA includes a vital capacity-building component of trainings, technology, and support. Family farmers, scientists, governments, research institutions, and private sector actors, among others, can then take full advantage of our technologies and help them overcome critical issues they face, especially under a climate crisis.
Agricultural Trainings and Support in Central and West Asia and North Africa
In addition to our Arab Peninsula Regional Program (see highlights), in 2020, we implemented over 1,100 demonstrations in farmers' fields in the region, led by Dr. Habib Halila and Dr. Nigamanada Swain with support from the Bill & Melinda Gates Foundation, the Kuwait Fund for Agricultural Development, the Organization of the Petroleum Exporting Countries Fund for International Development, and National Agricultural Research Systems (NARS). The demonstrations covered improved technologies for wheat and legume production in 28 target areas and, despite COVID restrictions, the outstanding efforts of NARS partners enabled over 5,800 farmers to benefit.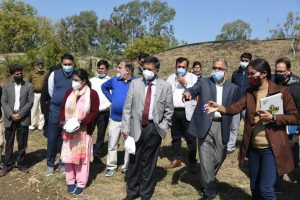 Funded by the International Fund for Agricultural Development (IFAD) the Strengthening Agricultural Knowledge Management (SKIM) project, is led by ICARDA's Dr. Akmal Akramkhanov. As well as training sessions across the region, we supported the University of Khartoum in scientific poster development, and the Virtual Learning Route was created to build a framework of agricultural knowledge sharing to support stakeholders and entrepreneurs across Sudan.
Training Tomorrow's Experts
In collaboration with the Center of Excellence project and funding from the Arab Fund for Economic and Social Development (AFESD), ICARDA's Dr. Seid-Ahmed Kemal held two in-country trainings for the Agricultural Research Centers of Egypt and Sudan. Fifteen young researchers in Egypt developed their knowledge in wheat and legume improvement through field and lab training. Across Sudan, 24 trainees (37% female) from eight research stations learned contemporary agricultural approaches.
Also, as part of the Semi-Arid project, funded by ERANET ArimNet 2 (an agri-research group from the Mediterranean region) with the support of ICARDA and the Faculty of Agriculture of the Lebanese University, a group of lecturer-researchers from Mediterranean institutions held an international training course for 40 postgraduate students and young researchers dedicated to the design of sustainable and diverse farming systems in dry areas.